It was a night to remember! On Monday, May 15, over 450 of our community members and supporters gathered at the Fairmont Copley Plaza for our 41st annual Golden Door Award Gala. The Golden Door Award is presented each year to an immigrant who has made outstanding contributions to American society. The Award takes its name from Emma Lazarus's words, which are inscribed at the base of the Statue of Liberty: "From her beacon hand glows world-wide welcome…I lift my lamp beside the golden door." This year's honoree was Dr. Srikant M. Datar, Dean of Harvard Business School. A graduate with distinction from the University of Bombay, Dr. Datar has received great recognition for his academic work, teaching, and commitment to inclusivity, and is a leader in the field of business management. 
Highlights of the Evening
Renowned Ukrainian Violinist

Liubomyr

Senshyn

Shares His Culture and

Passion

 
The evening began with a Suitcase Stories performance from renowned Ukrainian violinist Liubomyr Senshyn. Liubomyr spoke of the sacrifice his family made to buy him a violin when he was young, how his passion for the instrument led him to migrate to the U.S. to study, and the fear he felt as he watched from afar when Russia invaded his home country in 2022. The vestibule of his family's home, which he always remembered as an area of welcoming, suddenly became a place of shelter for Liubomyr's parents. Liubomyr struggled with what to do – was his focus on music enough in the face of such devastation and destruction? But then he realized: by choosing to play violin, he could help preserve and share a culture that it is under threat and honor the enduring strength of the Ukrainian people.
Congolese Refugee

and IINE ESOL Student Elisabeth

Mbombo

Reflects on the Power of Education
A refugee from the Democratic Republic of Congo, Elisabeth is a star pupil in our ESOL classes. She was a principal and teacher in her home country, and knows firsthand how education can bring freedom, safety, and self-sufficiency. Elisabeth shared her inspiring journey with us all.  
IINE Senior Program and Contracts Manager Sabyne Denaud Tells Her Own Immigration Story
The evening's hosts were our Legal Case Specialist Safeena Niazi and Senior Program and Contract Manager Sabyne Denaud. Safeena is from Afghanistan and came to the U.S. in 2017. Initially a client, Safeena went on to become an interpreter for our Afghan clients before joining our legal team. Originally from Haiti, Sabyne started at our organization in 2016 as a Case Specialist, resettling hundreds of refugees from all over the world. Now, she focuses more intensively on the thousands of immigrants who are arriving from her home country.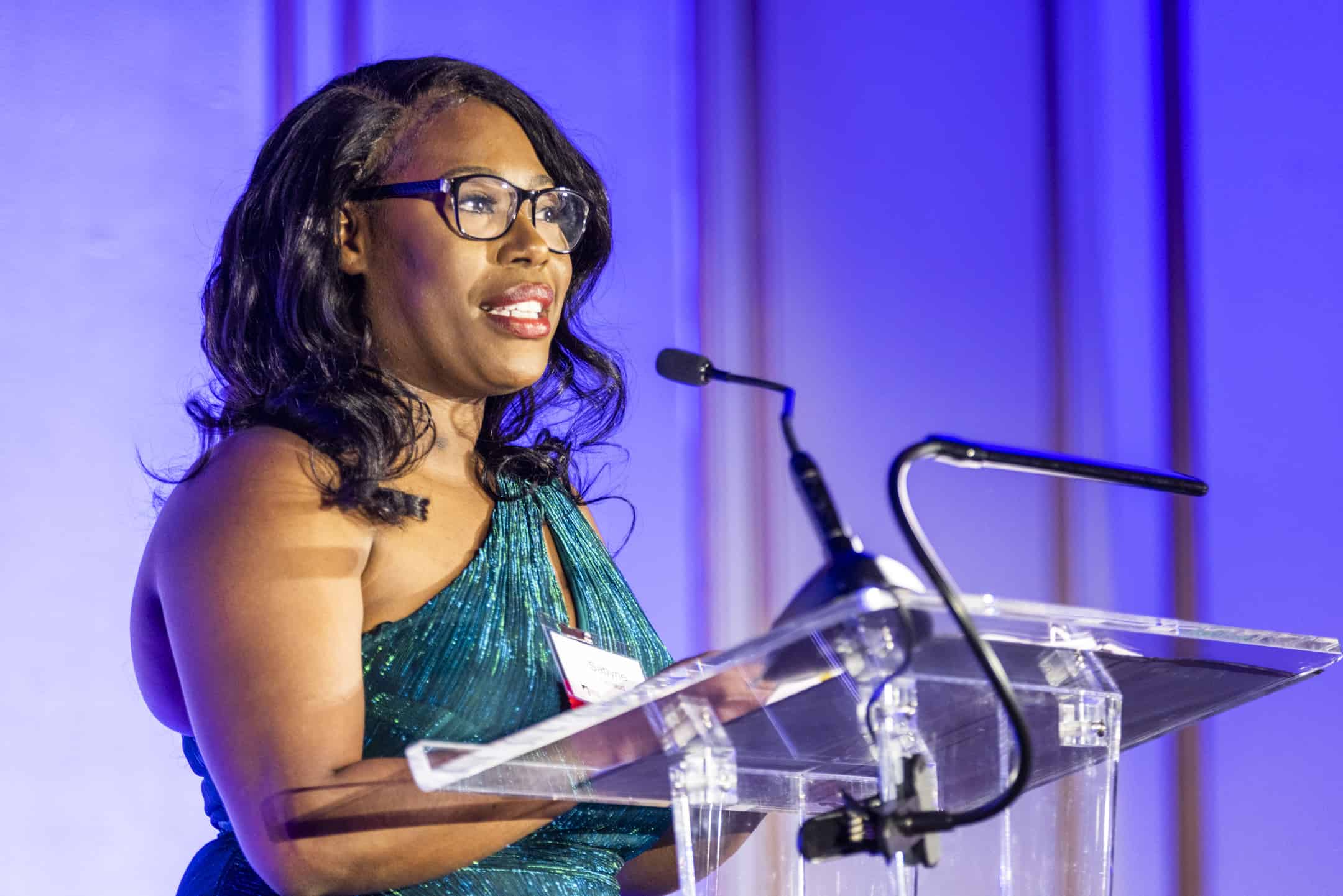 Sabyne took to the stage to share her own Suitcase Story. She described the difficult decision her mother made to leave Sabyne and her sister in Haiti when Sabyne was only 4 years old, and travel to the U.S. For more than a decade, Sabyne and her sister stayed in Haiti under the care of their mother's best friend. Sabyne and her mother spoke regularly, but in an effort to protect her, Sabyne's mother never told her of the difficulties she encountered as she struggled to create a life here. The family was finally reunited years later when Sabyne and her sister joined their mother in the U.S.; it was only then that Sabyne fully understood the many obstacles her mother had overcome to secure a better life for them all. Sabyne's moving, beautiful story—which brought many of us to tears!—captured the sacrifices so many refugees and immigrants make in the hope of a safer, better future for their families.  
Golden Door Award Honoree Srikant M. Datar Reminds Us of the Importance of Lifelong Learning and Serving
We presented Srikant M. Datar with the Golden Door Award in recognition of his extraordinary contribution to education and business on an international scale. Dr. Datar's colleagues, friends, and former students, including HBS alum Lisa Skeete Tatum, all spoke of his leadership, authentic commitment to inclusivity, deep humility and empathy, and his trademark warm laughter. Learn more about Dr. Datar, his journey to the U.S., and the impact he has had on so many in the video below.  
IINE Supporters Raise a Record-Breaking $2.1 Million

For Refugees and Immigrants
Thanks to our gala attendees and the generous support of our sponsors, including Bancel Philanthropies, Loulou Foundation, Bristol Myers Squibb, Bain Capital, Moderna, and Pfizer, the night was a resounding success! The $2.1M raised will strengthen our ability to support refugees and immigrants who come to the region seeking safety and a new start. "Over the past few years, the number of families we serve has doubled. People fleeing humanitarian crises from around the world, including in Afghanistan, Ukraine, and Haiti, are arriving at our offices in unprecedented numbers, all seeking life-saving support," said our CEO Jeff Thielman. "The need is remarkable – and it is growing every day. These funds are essential to the continuation of our services, and we are so grateful for the support."    
All photos courtesy of Matt Teuten Photography