Our Contributors
Forged with compassion, creativity and ingenuity, the mutually rewarding relationships we share with donors, partners and volunteers are a constant source of resources and strength for refugees and immigrants.
DONORS
Ernest M. Haddad
Relationship: Donor, Volunteer and former Board Member
Years of Support: 2002 to present
Ernest M. Haddad, the retired General Counsel of Partners Healthcare, served on the Board of Directors of the International Institute of New England from 2002 to 2011, but his connection to the Institute began with his parents. In the early 1950s, his father, Abraham, a small businessman, became the first Arabic speaker on the Institute's Board. His mother, Elaine, was an active member of the Syrian Women's Club into her late 70s, and he distinctly remembers attending the Institute's annual ball as a teenager.
"The Institute was important to my immigrant parents … It provided a place for my mother to form a social circle with the women's club, and my father received recognition as a member of the Board."
—Ernest M. Haddad, IINE Donor
Ern's father was just an infant when he was brought to the U.S. from what is now Lebanon; his mother was a teenage immigrant from Damascus. So when Ern was asked to join IINE's Board, he was thrilled to help lead an organization that had meant so much to his family. During his tenure, he helped update the governance and bylaws of the organization and bring in strong new leadership.
"I saw what a good job the Institute did in lifting the spirits of immigrant people in Boston, providing them with a place to socialize and learn," says Ern, who remains as a loyal donor and volunteer for IINE. "I was thrilled to be a part of the Board as the Institute was undergoing a transition to its present iteration of providing comprehensive services to refugees and asylees."
Your financial commitment will have a lasting impact on the lives of immigrants and refugees resettling in New England. To make a gift in support of IINE's mission click here.
PARTNERS
Four Seasons Hotel Boston
Relationship: Employer Partner
Years of Partnership: 2009 to present
A student from Morocco in IINE's Hospitality Training Program shadowed a Four Seasons housekeeping employee back in 2009, was hired, and still works at the hotel today. Success stories like this, of newcomers gaining independence in America, are repeated every time a local business partners with the Institute.
For more than a decade, the Four Seasons Hotel Boston has partnered with IINE-Boston's Hospitality Training Program to help open doors for immigrants and refugees interested in a career in the hospitality industry. The program includes four intensive weeks of customer service training and an orientation to the hospitality industry provided by IINE-Boston Skills Training Instructors, followed by a two-week internship that pairs individuals with hotel employees in housekeeping, client services, catering, and various other departments.
"The internship is an interactive opportunity that allows observers to see how different functional units within the hotel operate, and helps observers determine potential areas of professional interest within the hospitality field," says Denee D'Andrea, Senior Learning Manager at Four Seasons Hotel Boston. "Every year we've been able to hire a student from the program."
"The diversity of our global workforce is one of our greatest assets, and helping nurture new and emerging talent on a global level is important not only for the hotel, but for the global community."
—Denee D'Andrea
Four Seasons is a global company with employees in many countries around the world. "We operate on the belief that the key to success is our people," says Denee. "The diversity of our global workforce is one of our greatest assets, and helping nurture new and emerging talent on a global level is important not only for the hotel, but for the global community. Assisting immigrants and refugees in finding a new and successful path to becoming active participants in American life is a part of our local effort to make a global difference."
Securing a job and advancing a career are important steps on the pathway to self sufficiency for immigrants and refugees. To learn more about business partnership opportunities, follow the link below to contact the appropriate department at IINE.
VOLUNTEERS & INTERNS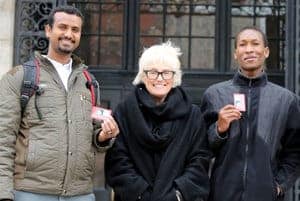 Michele Ross
Relationship: Intern turned Employee
Years of Service: January 2016 to present
Michele Ross first joined IINE as an intern through her master's degree program in peace and conflict studies. She was later hired as the Boston site's Office Manager. In both roles, she has been committed to doing "transformative" work with refugee populations escaping violent conflict in their countries of origin in search of safety in the United States.
"While lucky to have escaped the violent conflicts in their countries, [our clients] continue to face grave inequalities once they arrive, joining those in this country who hold little power," Michele says. "If each new refugee is treated with compassion, respect and empathy as they embark on this difficult transition, society moves one step closer to positive peace."
As an intern, Michele provided intake interviews for clients recently granted asylum and helped clients apply for public benefits, social security, and the Masshealth health insurance program. She also taught the Boston site's Cultural Orientation Program for newly arrived refugees, which she continues in her current role.
"Most wonderful is when students are hired at their first job within the first two or three weeks of their arrival, and they don't get to finish my class."
—Michele Ross
Now, as Office Manager, Michele is often the first contact for IINE-Boston clients and students. "I do a lot of triage and make sure to greet everyone with a smile so that they feel welcome and safe."
She also helps make sure clients arrive at their appointments and classes on time, fields questions about cultural differences and customs, and provides orientation to day-to-day tasks including how to mail a letter, open a bank account, access food banks, and find warm clothing.
Though Michele has many years of experience in areas such as management, direct service, grant writing, advocacy and teaching, in her IINE internship she served alongside interns without prior direct service experience. "Their growth was evident and fun to watch. I find direct service very rewarding and would recommend an internship at IINE — particularly for people interested in careers in social work, political advocacy, law, human rights work or teaching."
Volunteers and interns are integral parts of fulfilling the Institute's mission. To learn more about opportunities, follow the link below.