IINE Community Response to COVID-19
Phone numbers
 
 Email addresses

Boston

617-695-9990

 

 

 English Classes, Skills Training Classes

 learn@iine.org 

Lowell 

978-459-9031

 

 

 English Classes, Skills Training (CNA)

 learnlowell@iine.org

Manchester 

603-647-1500

 

 

 General inquiries

 info@iine.org

Legal Services

617-801-5258

 

 

 Legal Services, Citizenship Information

 legal@iine.org
Program Info for the month of August 2020
Since IINE's offices closed for in-person services on March 13, 2020, a total of 1,686 unique clients have been served remotely. By site, IINE has provided remote services for 586 clients in Boston (increased by 21 from previous month), 707 in Lowell (increased by 3 from previous month), and 393 in Manchester/Nashua (increased by 6 from previous month).
Thanks to the support of our generous benefactors, IINE's case management and education staff and volunteers have been able to provide a lifeline to people disproportionately impacted by the COVID-19 impact. Below is a summary of IINE's emergency relief services since the start of the pandemic:
684 instances of emergency employment support
1,191 provisions of emergency food and supplies
158 instances of emergency housing support
53 cases of emergency medical support
1,082 instances of emergency public benefits support
1,238 wellness checks
643 instances of emergency Adult Education support
238 instances of emergency cash assistance
221 youth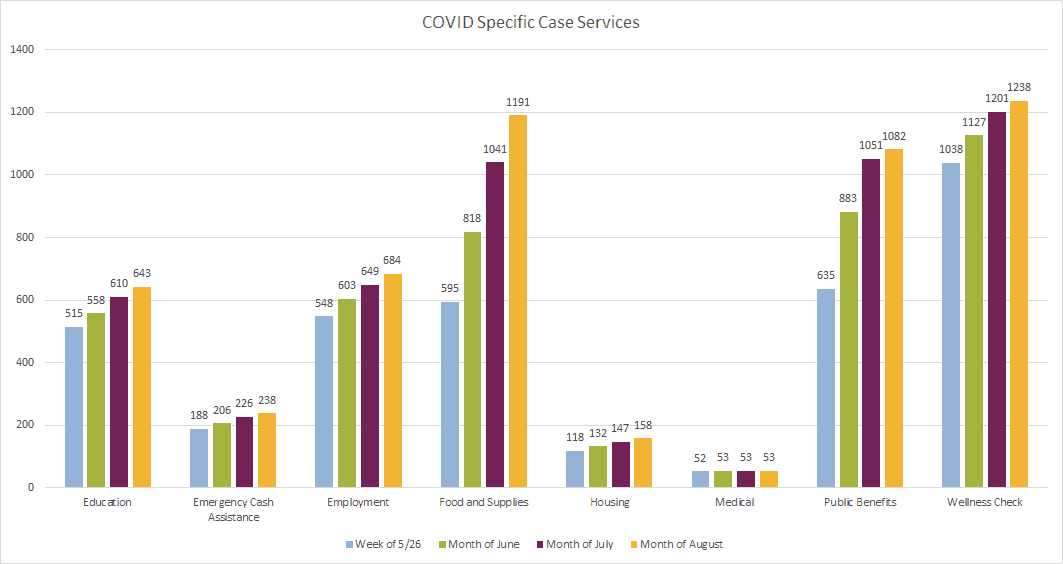 Please consider supporting IINE at this time so that we may continue to provide emergency support to people most impacted by COVID-19.
Since March 13, 2020, the vast majority of IINE employees are working remotely to keep safe and practice social distancing. For an organization that thrives on personal connection, face-to-face service delivery, and group interaction, it was an adjustment for us to move our operations online. It wasn't long, though, before we found that services could continue to be delivered, classes could still be interactive, and meetings – for better or worse – could still take place. Here's a quick and lighthearted take on how IINE staff and clients have been making the  best of working from home.