IINE Community Response to COVID-19
Phone numbers
 
 Email addresses

Boston

617-695-9990

 

 

 English Classes, Skills Training Classes

 learn@iine.org 

Lowell 

978-459-9031

 

 

 English Classes, Skills Training (CNA)

 learnlowell@iine.org

Manchester 

603-647-1500

 

 

 General inquiries

 info@iine.org

Legal Services

617-801-5258

 

 

 Legal Services, Citizenship Information

 legal@iine.org
Program Info for Week Ending May 22, 2020
Now more than ten weeks into COVID response, IINE programs continue to operate remotely. English classes and Skills Training courses are being held via distance learning. Legal services are also being conducted on the phone and via video chat.
Many program staff are engaged with crisis mitigation, and are spending their days helping IINE clients navigate a new and complicated world.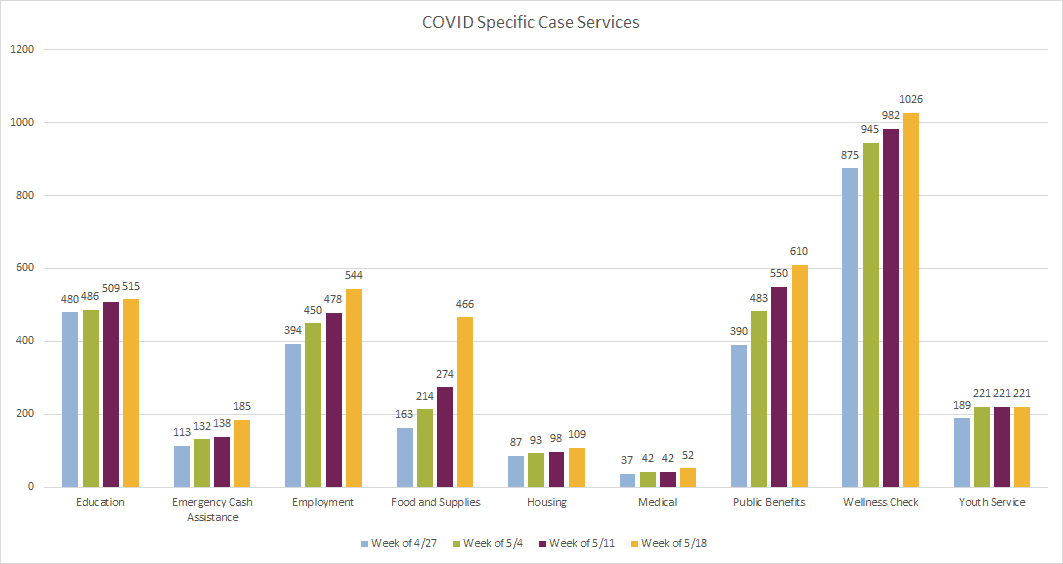 Data Highlights:
IINE's offices closed for in-person services on March 13, 2020. Since then, over the course of eight weeks, IINE has served a total of 1,548 unique clients. This represents an increase of 46 new clients from the previous week.
IINE has provided remote services for 533 clients in Boston, 667 in Lowell, and 348 in Manchester/Nashua.
In addition to the ongoing"Wellness Checks" provided by IINE staff to the families and individuals we support, we continue to respond to the consistent and urgent needs our clients face. We are currently assisting them in:

applying for emergency public benefits, including Unemployment applications
accessing and taking part in English classes
sourcing (and in some cases, providing) emergency food and supplies
providing assistance to youth and educational coordination for school-age children
emergency housing support
Program Highlights:
As of May 22, IINE had directly assisted 173 households (558 individuals)  with rent/food/visa cards  in the form of rent payment or groceries.
The first "virtual" Hospitality Training Program (HTP) cohort is preparing for their remote video graduation ceremony this week.
Suitcase Stories Conversations marks the 10th episode of the weekly webinar with guest storytellers on May 27.
Since March 12, 2020, the vast majority of IINE employees are working remotely to keep safe and practice social distancing. For an organization that thrives on personal connection, face-to-face service delivery, and group interaction, it was an adjustment for us to move our operations online. It wasn't long, though, before we found that services could continue to be delivered, classes could still be interactive, and meetings – for better or worse – could still take place. Here's a quick and lighthearted take on how IINE staff and clients have been making the  best of working from home.
Recent Blogposts & Articles
Join us in our efforts today!