The International Institute of New England (IINE) takes this opportunity to remember one of its own – former Chair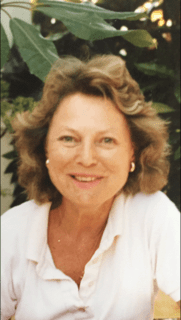 person of the Board of Directors Patricia "Patsy" Wrenn – who passed away in Dedham, Massachusetts on August 21, 2017. "We've lost someone who was truly elegant and refined, but also a force to be reckoned with," said Rosamond Allen, a close friend of Patsy's and former IINE board member. "She treated everyone, citizen and refugee alike, as a dignified person. Everyone loved her."
We remember Patsy as a friend and supporter of the International Institute, and our hearts go out to her family during this difficult time.
Throughout her life, Patsy had a positive impact on many New Americans, particularly those who used the Institute as a respite from the journey of 'belonging.' An immigrant herself from France, Patsy had a special understanding of being the newcomer, which shaped the way she influenced programs at the Institute.
From 1978-1983, during a particular tumultuous time in United States history, she served as the International Institute of Boston's board president, then housed on Commonwealth Avenue. With the fall of Saigon and the rise of the Khmer Rouge, the flow of refugees from Southeast Asia was increasing daily in Boston and caused enormous growth in the Institute's programs and social activities. Board and staff at the time reported seeing not only an increase in refugee activity, but also a rise in public prejudice that put a strain on the community.
"There were a lot of Vietnamese people who couldn't speak English, who occupied the neighborhoods but did not supporting the local economy," Rosamond explained, recalling the rising tensions in the city. "There wasn't any federal funding for our programs at the time, so we did what we could, what we needed to do for these people," said Rosamond.
She explained that in order to aid the influx of clients, a 'motor corps' of women, including the Institute's board members, met planes at Boston Logan International Airport, took refugees to Stride Rite for new shoes and to the Salvation Army for clothes, and brought them to job interviews. Patsy came to know many of the refugees personally and worked endlessly to welcome and integrate them into their new communities.
During this time, the International Institute of Boston also invested heavily in fundraising activities within the organization, with Patsy spearheading the committees of several annual events. Patsy raised funds for and organized several events including the International Ball and the Golden Door Award, a cherished International Institute tradition for more than 40 years that honors a U.S. citizen of foreign birth who has made an outstanding contribution to American society. Patsy's guidance of these events ensured the community came together as a group, with every attendee treated as a dignified guest. This was the sort of person Patsy was – always thinking of how others felt.
We are saddened by the death of a dear friend of the Institute, but moving forward we take with us a very important lesson from Patsy: Our initial responsibility to New Americans is to support their housing, employment, and education needs; but so equally important, is our ongoing obligation to fully welcome them as part of our diverse community.