Every spring, summer, and fall, we welcome a new slate of talented and passionate interns to our team! In this blog post, hear from three of our current interns from across the organization.
Priyanka Sinha, Skills Pathway Intern



Student at Tufts University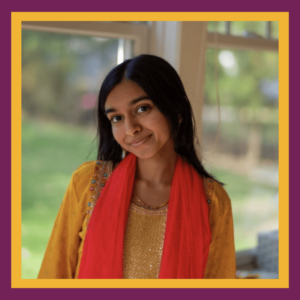 What led you to an internship at IINE? 
At Tufts, I study international relations. I have tailored a lot of my research and my academic track to learning about humanitarian issues, refugee and immigrant communities, and their migrations to other parts of the world. Thus, I was interested in an internship at IINE because this organization is at the forefront of working with refugee communities by providing key guidance through resettlement and building a prosperous life here. I am drawn to work opportunities that allow me to make a direct, immediate impact, and I really see that at IINE.  
What have you enjoyed most about your time here? 
Later this month, I am attending a workshop with some of our refugee and immigrant clients involved in professional training. I will have the opportunity to engage in a focus group discussion with them on their career goals, the experience they are bringing with them, and how to translate their interests into sustainable long-term paths for them and their families. Though this discussion has not happened yet, I am most excited about this project because engaging with this group on their career aspirations, how they imagine their futures, and how we can help them realize them is very fulfilling for me. 
How has this experience better prepared you for your future? 
My experience at IINE has connected me to a network of people with similar values and priorities surrounding issues of resettlement and resources for incoming populations of refugees. It has also equipped me with more comprehensive conversational and organizational skills as I balance different projects at once and conduct outreach to many different local organizations to compile materials for our programs. 
Katherine Santos,

Community Services and Resettlement

Intern
Graduate Research Assistant at University of Massachusetts Lowell
What led you to an internship at IINE? 
My passion for working with migrant communities led me to an internship at IINE. I'm graduating from the University of Massachusetts Lowell Community Social Psychology Master's Program, in which the graduate capstone project is a year-long practicum/internship where you combine theory and practice in the local community.  
What have you enjoyed the most about your time here? 
I enjoy working in a fast-paced environment that's always changing, where each day I can learn something new or exciting. Changes in federal policy can be seen at the individual level through client numbers or immigration status. Through working directly with clients and providing them with assistance to succeed in the U.S., you can see the variety of individuals, families, and types of services they may or may not need.  
How has your experience better prepared you for the future? 
This experience has better prepared me for my future as a community psychologist. While I have some experience, migrant communities, like all communities, are complex and heterogeneous. Research and theory are great tools to learn, however direct experience cannot be discounted as a powerful source of knowledge. 
Yoryi

Peguero III,

 Multimedia Intern
Student at Framingham State University 
What led you to an internship at IINE? 
Chief human resources officer Nina Nova-Duran would have to take the credit here as she knew I needed an internship in my last semester of college. She reached out to me and asked what I was interested in doing for a future career. When I mentioned my interest in social media, she presented the perfect opportunity to join the Marketing Department as a Multimedia Intern. It was exactly what I was looking for at the time. In the classroom we are taught the theory of marketing and where it can take you, but I was ready to put what I had learned into practice. Media marketing is evolving by the day, and IINE stands behind a great mission and purpose which resonate with aspects of my life.  
What have you enjoyed most? 
Being at IINE has been a nice, soft welcoming to the working world and that is something that I appreciate. The team I have been working with has been amazing and super helpful with every question I have. I have enjoyed creating content for them and even seeing some of my own ideas be implemented into current projects. That has shown me that this is a place where your ideas are valued.  
How has this experience better prepared you for the future? 
This experience has better prepared me for the future by teaching me how to connect with others and build ideas off of one another. During my first interview, I caught myself sort of thinking out loud and gave Kelly Fleming, director of annual giving and engagement, and Jason Rabin, communications manager, an idea that we are now putting into action. IINE has also allowed me to grow as an individual in the work place. I have learned new things and have polished some of my skills to become a better version of myself. I plan to continue the good work I have put in here and allow myself to enjoy new endeavors in different aspects of life.  
IINE internships offer robust, hands-on experience for individuals of all ages to develop nonprofit leadership and refugee and immigrant direct service skills. Curious to learn more? Click here: Internships at IINE.