What is Suitcase Stories?
Suitcase Stories® is a signature program of the International Institute of New England. It raises the profile of refugees and immigrants while strengthening community through the art of storytelling.
Launched in 2016, Suitcase Stories began as a traveling live performance series featuring foreign and U.S.-born residents sharing powerful refugee and immigrant stories. Since its initial year, the initiative has expanded to include programming customized for community partners. To date, more than 3,000 people have enjoyed a mainstage performance and thousands more have watched a taped episode on PBS television. The response from those audience members spoke of how the performance challenged and expanded their perceptions of refugees and immigrants.

To hear the stories of immigrants at all stages of their assimilation
was eye-opening and heartwarming.
– Boston audience member
IINE offers a suite of "Suitcase" programming tailored for partners including schools, community groups, and businesses.  Biogen, EY,  Curry College, Boston College, Boston University, and Lowell Public Schools have welcomed our storytellers and trainers to their training rooms, classrooms, and lecture halls. Community groups from Cape Cod to the seacoast of New Hampshire have hosted Suitcase Stories programs in libraries, temples, churches, and community centers.
Suitcase Stories Live – IINE's signature performance features professional and emerging storytellers for audiences of 250+ guests.
Suitcase Stories Community Showcases – smaller custom shows produced in partnership with schools, universities, faith institutions, local partners and businesses. These shows include a combination of feature Suitcase storytellers and local voices.
Suitcase Stories Unpacked – a storytelling workshop focused on crafting personal immigration-related stories. The program teaches the art of storytelling while strengthening relationships between local residents of diverse backgrounds.
Suitcase Stories Podcast – Online episodes where guests unpack the refugee and immigrant experience through conversation and storytelling.
COMING SOON!
Suitcase Stories performers include a combination of professional storytellers and people new to the craft. For many storytellers, Suitcase Stories is his or her first time sharing the story in front of a live audience and can be a transformative experience.
Past storytellers have traveled to the U.S. from Afghanistan, Cambodia, Cuba, Haiti, Korea, Myanmar, Poland, Somalia, Sudan, and many other countries. Storytellers also include people born in the United States to reinforce how immigration is a subject that affects all of us.
To be considered as a storyteller,
contact Director Cheryl Hamilton at chamilton@iine.org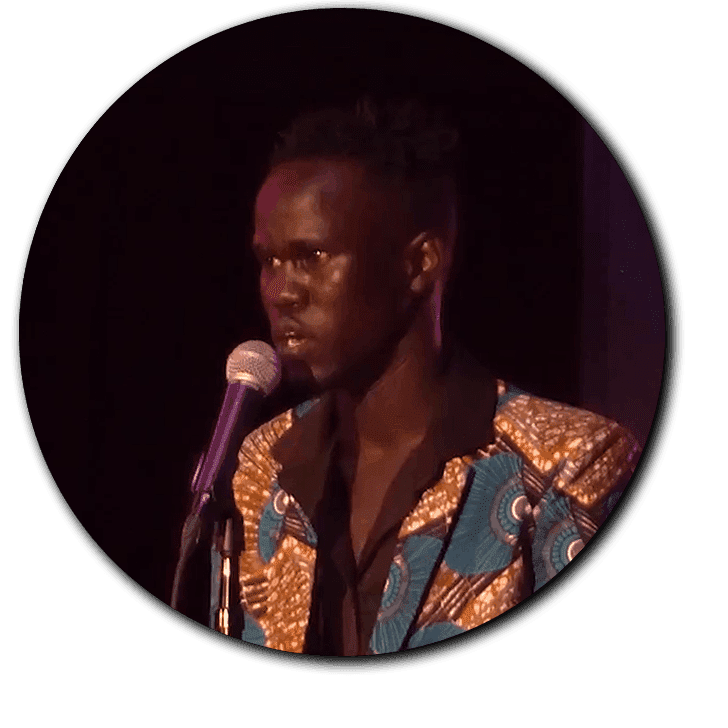 "Participating in Suitcase Stories was a memorable experience because it was the first time I have shared my story on stage with other refugees and immigrants to make our voices heard, and to be an advocate for the voiceless."

– Biar Kon, IINE client and former Sudanese refugee.
Sponsorship Opportunities
IINE relies on corporate and community support to help us fulfill our ongoing mission to build vibrant, inclusive communities in New England. By sponsoring Suitcase Stories, our partners raise the profile of refugees and immigrants, help IINE educate the community on important immigration topics, and strengthen relationships between diverse communities. Sponsor opportunities not only underwrite IINE's live performances, but it also allows us to bring Suitcase Stories to schools, libraries, and other community groups that cannot fully fund programs, but continue to reach out to IINE to help educate their communities.