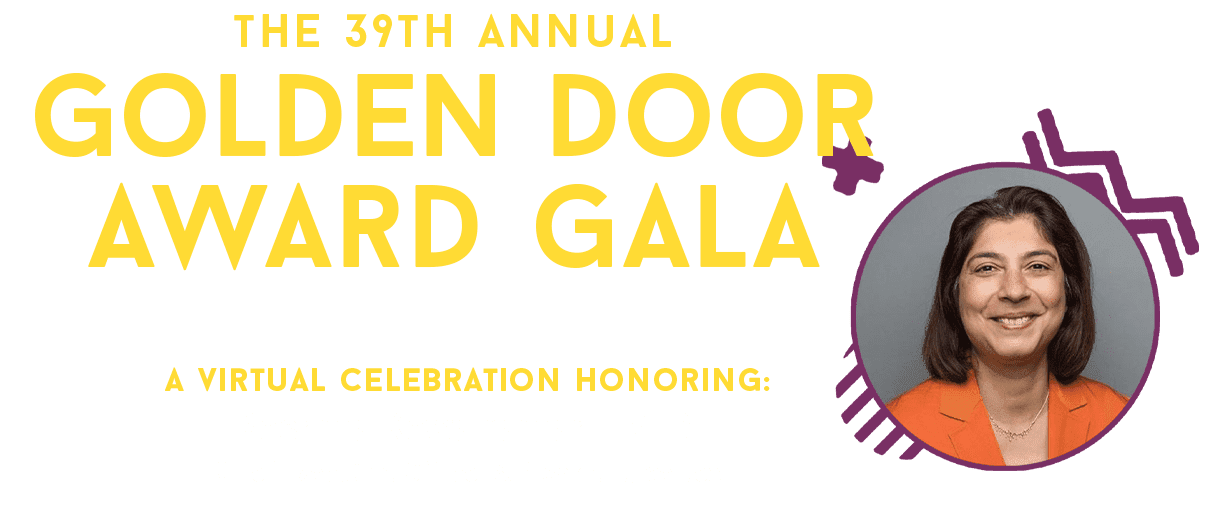 Please join us virtually on Tuesday, April 27, 2021 at 5:30 p.m.
The International Institute of New England is presenting this year's Golden Door Award to Dr. Reshma Kewalramani. It is fitting that in the middle of a global pandemic we are honoring a scientist and global leader of a company devoted to helping patients fighting rare diseases.
ABOUT THE EVENT
The Golden Door Award has been an IINE tradition for more than 40 years. The honoree is a U.S. citizen of foreign birth who has made outstanding contributions to American society. It is an occasion that calls us to stand together in celebration of the achievements of new Americans who have played an integral role in our community, economy, and society.
The Award takes its name from Emma Lazarus's words, which are inscribed at the base of the Statue of Liberty: "From her beacon hand glows world-wide welcome…I lift my lamp beside the golden door".
2021 GOLDEN DOOR AWARD HONOREE

Reshma Kewalramani, M.D.
Dr. Reshma Kewalramani is the Chief Executive Officer and President of Vertex Pharmaceuticals, a global biotechnology company that invests in scientific innovation to create transformative medicines for people with serious diseases. Vertex has multiple approved medicines that treat the underlying causes of Cystic Fibrosis and other rare diseases.
Dr. Kewalramani is an accomplished leader and physician with a track record of building strong teams, putting patients first, leading change and delivering results.
As an immigrant and alumnus of two Massachusetts universities, Dr. Kewalramani's life and contributions to science exemplify the ingenuity and global leadership that benefits the United States in remaining open to brilliant minds from around the world. As the first female CEO of a top five biotech firm, she is inspiring people across generations and industries
For her successful efforts to provide life-saving medicines to people with rare diseases and for her leadership of one of the world's premier biotechnology companies, the International Institute of New England proudly presents the 39th Golden Door Award to Dr. Reshma Kewalramani.
Host Committee
Committee Co-Chairs
Tim Ferris, M.D., CEO, MGH Physicians Organization
Linda Henry, CEO, Boston Globe
Diane Patrick, Partner, Ropes & Gray
Committee Members
Dr. Joseph Aoun, President, Northeastern University
Dr. Robert A. Brown, President, Boston University
Shamim Dahod, M.D., President, Noor il Iman Foundation
Nisreen Dahod
Desh Desphande, Chairman, Sparta Group LLC.
Tasneem Dohadwala, Founding Partner, Excelestar Ventures
Andrew Dreyfus, President and Chief Executive Office, Blue Cross Blue Shield of Massachusetts
Laurie H. Glimcher, MD, President & CEO, Dana-Farber Cancer Institute
Marianne Harrison, President and CEO, John Hancock Financial
Dr. Samarth Kulkarni, CEO, Crispr Therapeutics
Jeff Leiden, M.D., Executive Chairman, Vertex Pharmaceuticals
Margaret Low, Chief Executive Officer, WBUR
Sharon McNally, President, Camp Harbor View
Andrew Plump, M.D., Ph.D., President of Research and Development, Takeda
Reshma Shetty, Co-founder, Ginkgo Bioworks, Inc.
Kate Walsh, President and CEO, Boston Medical Center
IINE Board of Directors
Zoltan Csimma, Chair
Christina Bai
Tara Chynoweth
Sam Épée-Bounya
Ginger Gregory, Ph.D.
Tuan Ha-Ngoc
Avak Kahvejian, Ph.D.
William Krause
Shari Loessberg
Bopha Malone
Theo Melas-Kyriazi
Frederick Millham, M.D.
Deborah Shufrin
Nia Tatsis, Ph.D.
Jeff Thielman, President and CEO