The United Nations General Assembly established the first World Refugee Day on June 20, 2000. The international holiday honors the courage and resilience of refugees worldwide, celebrates the significant contributions they make to every community they join, and calls for expanded protections for a population that is forced to flee their homelands.  
Our community came together at our three sites—Boston and Lowell, MA and Manchester, NH—to celebrate our clients' successes, hear their stories, and honor our community partners, who make our work helping refugees possible.  
Highlights of the Day
Refugee Voices: Clients Share Their Personal Journeys
A number of clients took the stage to share what brought them to IINE and the challenges and opportunities they have faced since arriving in the U.S. Originally from the Congo, Suitcase Stories performer Mapendo Mutingamo reflected on her years-long journey to Massachusetts. Mapendo grew up in a large house with her four siblings and their parents. When her father, a successful artist, went missing, Mapendo and her family left the Congo to try to reunite with him. They would spend the next 15+ years living in Uganda, in a home "smaller than a restroom." Food was scarce, the house lacked beds, and the bathroom was outdoors and shared with other families in the area. When Mapendo and her family were finally able to migrate to the U.S., they found hope. Today, with support from IINE, Mapendo and her siblings are enrolled in school, her family has a comfortable home, and she has graduated from our Certified Nursing Assistant Training Program. Reflecting on her experiences as a refugee, Mapendo shared this insight, "Take this from me: life is like a potato. Sometimes it's smashed, sometimes it's hard, and sometimes it's turned into fries, so enjoy it as it lasts." 
Congratulations to our Graduates and Award Recipients!
There were many accomplishments to celebrate this World Refugee Day! We recognized our eight refugee youth clients who have been accepted to represent the state of Massachusetts as part of the National Youth Leadership Council. As NYLC members, our youth clients will receive training to be leaders in improving their communities and addressing real world issues. We also celebrated multiple graduations. Our ESOL (English Speakers of Other Languages) students celebrated the end of term and having gained the language skills and culture knowledge they need to be successful in the workforce. Our LNA (Licensed Nursing Assistant) class celebrated completing the 18-week program, which prepares them for the NH Board of Nursing LNA licensing exam. We are so proud of our clients' successes!  
Support from the Community
This year alone, our organization has supported over 6,000+ refugees and immigrants. Meeting this unprecedented need for our services would not be possible without the help of our community. We honored the contributions of numerous community partners this World Refugee Day, including Abisi Adult Education, ASAIPSAR (Acton Stow Area Interfaith Partnership Supporting Afghan Refugees) Volunteer Team, Boston Area Gleaners, Department of Transitional Assistance, Middlesex Community College, and Starbucks. At our Lowell celebration, representatives from Starbucks took attendees on a tour around the world via coffee. Starbucks recently hired multiple IINE clients. In New Hampshire, we heard from Manchester Mayor Joyce Craig (pictured above) and representatives from Senator Jeanne Shaheen's and Congressman Chris Pappas' offices, who all recognized the invaluable role refugees play in strengthening our local economy and culture.  
Fun Had by All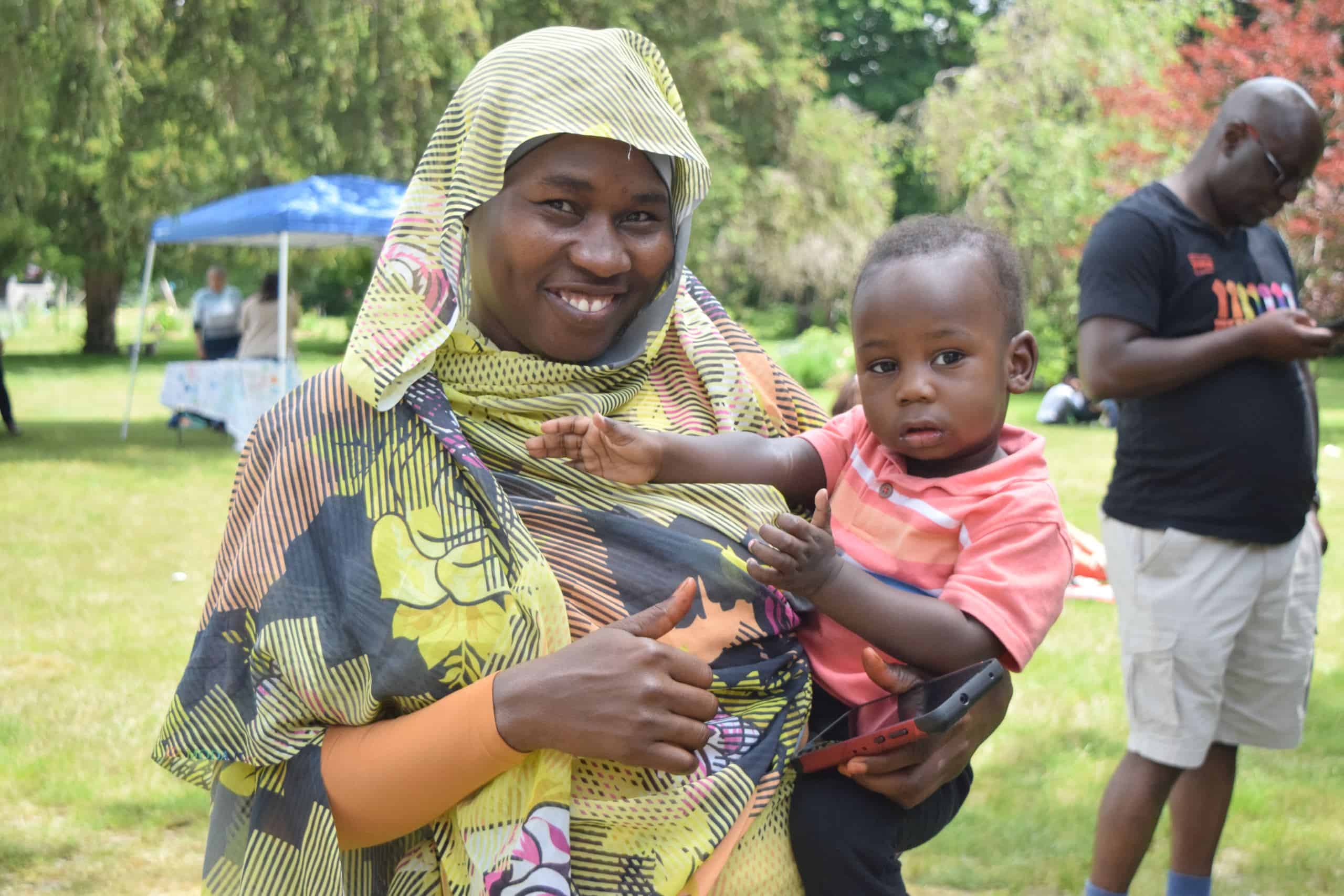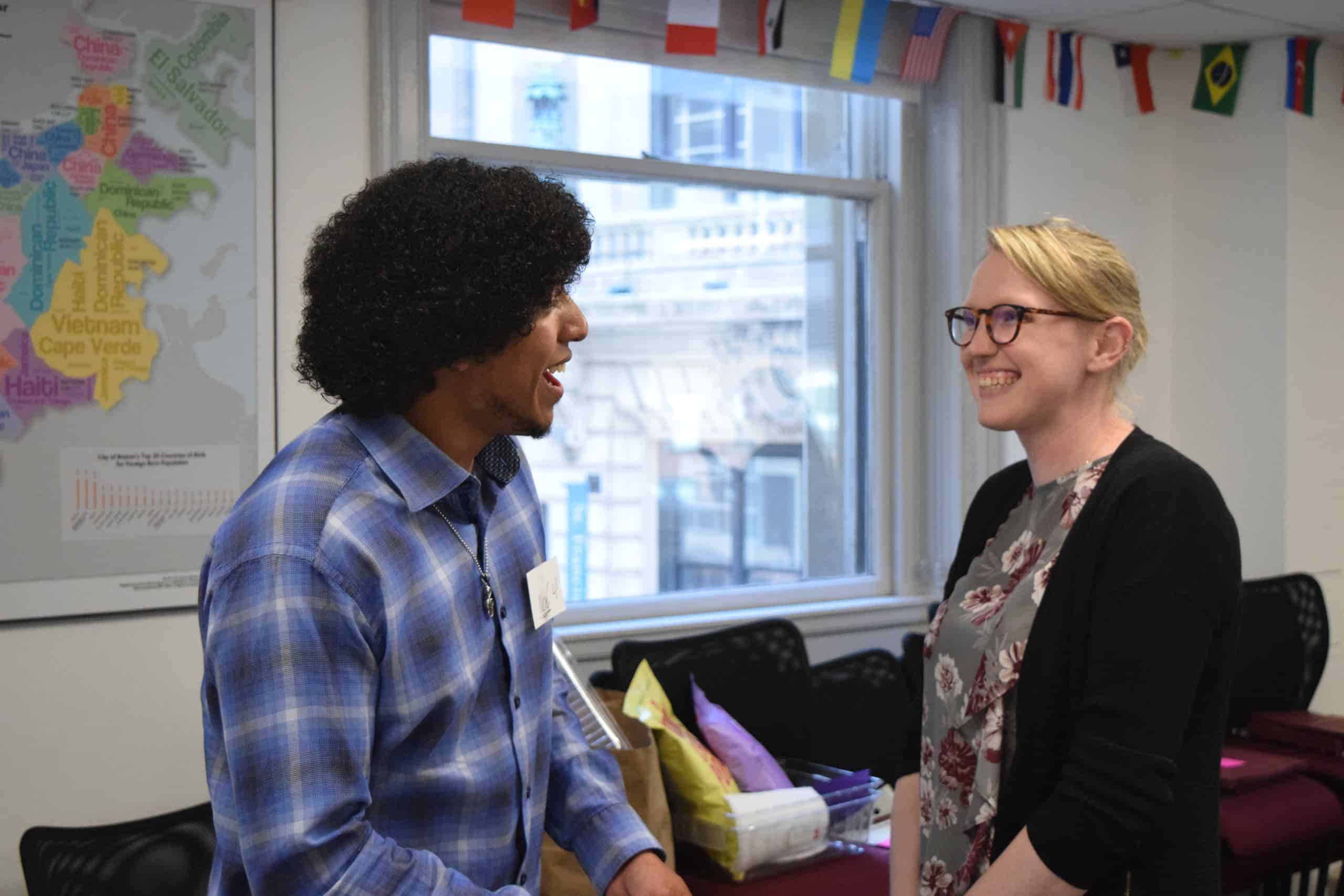 At all of our sites, our staff, clients, and supporters enjoyed the opportunity to gather in-person, celebrate this important holiday, and enjoy great food, games for the whole family, and each other's company! 
We are proud to have welcomed, resettled, and supported refugees in the New England region for over 100 years. Learn more about our refugee resettlement work here.