Julian D'Andre joined the International Institute of New England earlier this year as a Case Specialist. Driven by a desire to help fellow Ukrainian refugees, Julian spends his days helping our clients to access the resources they need to achieve security in their new home. Julian shared his path to IINE, what he enjoys most about his role, and how he finds hope and purpose as the war in Ukraine continues.  
What brought you to the International Institute of New England?
I didn't necessarily envision myself working at IINE, but having lived in Ukraine for nineteen years of my life, I had a strong desire to help Ukrainians who were coming to Massachusetts through the U4U program. I knew that I would be well equipped to bridge the gap between Ukrainians who moved to Massachusetts and the possibilities that are available to them.
What does your day to day look like? 
As a Community Services Case Specialist my day to day varies, but every day there is a fair amount of documentation that takes place. In addition, I apply to different public benefits for my clients and check in with them to make sure that their needs are being met to the best of my ability.
What aspect of your role do you enjoy most? 
I enjoy interacting with my clients and helping them to get from where they are to where they would like to be. I enjoy being a step in the process of becoming integrated into the community. I love connecting people, so meeting people and connecting them to different resources, community leaders, etc. is something I enjoy.
What advice would you share with someone who is interested in joining IINE?
IINE is a special place in that you are one of the first people that someone meets when moving to the United States. You have the unique opportunity to help someone get on the right path toward their goals. In addition, you can be kind to someone who may not have experienced kindness or positive emotions for a long time.

Share something you are passionate about.
It's difficult at times to focus on hobbies because for Ukrainians, the number one goal at the moment is victory and survival. In order to get to victory faster, I started an initiative for creative people to do projects for people and use the revenue to support Ukraine. I have been doing photo and video shoots to help my friends who are fighting in Ukraine and who are in dire situations (you can view the photos and videos on Instagram).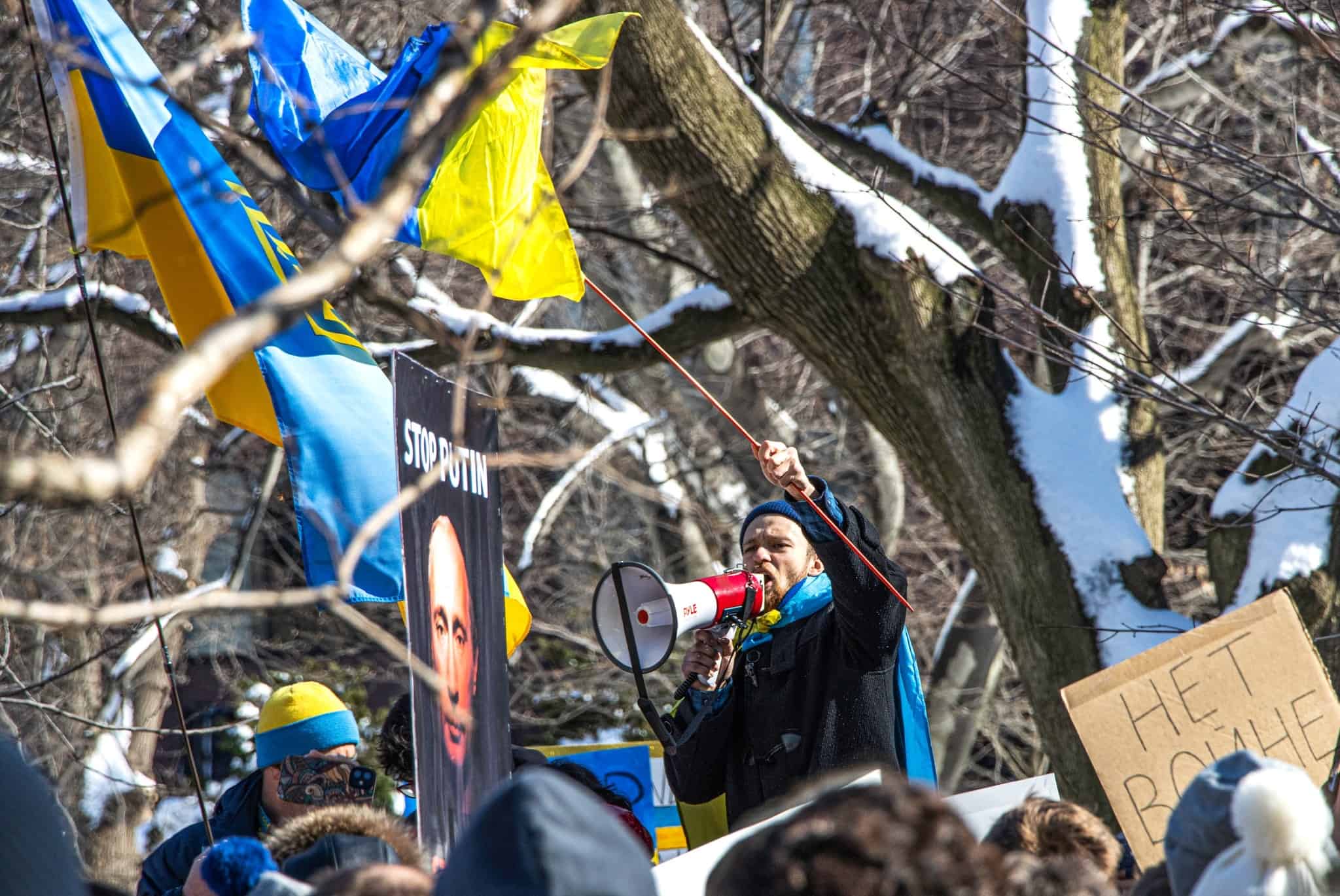 Julian at a protest against Russia's invasion of Ukraine
Interested in joining our team? Our collaborative, team-oriented environment offers opportunities to serve refugees and immigrants, while learning from other staff and departments. View career opportunities here.