Migrants. Immigrants. Refugees. Asylum seekers. Parolees. They all leave their homes seeking a better life. Some leave by choice, others by dire necessity. The terms used to describe people who make these difficult decisions and journeys are determined by why they come, and the different legal rights they have when they arrive.
Migrants and Immigrants
The terms "Migrant" and "Immigrant" are not humanitarian legal statuses, just descriptors. Though usage varies, formally the main difference between migrants and immigrants is the permanency of their stay in a new location.
Migrants
Migrants are people on the move either within their home countries or internationally, who do not necessarily intend to stay at their destination indefinitely. It's important to note that "migrant" is often used as an umbrella term when people's motivation for crossing borders, or their ultimate status after arrival, is unclear. 
Immigrants
Immigrants choose to move to a foreign country with the intention of settling there. They often go through a lengthy vetting process. Many become lawful permanent residents and eventually citizens.  
"Emigrant" is used to describe a person while leaving their country of origin, and "immigrant" is used to described someone who is entering or has entered a new country.
Refugees, Asylum-Seekers, Parolees, Temporary Protected Status (TPS) Recipients
, Victims of Trafficking, and Unaccompanied Children
These terms refer to Humanitarian Legal Status—they are defined by their reasons for coming or means of arriving, and also by the rights and protections they receive upon arrival in the U.S. 
Refugees
Refugees leave their home countries and are unable or unwilling to return because of a well-founded fear of being persecuted for reasons of race, religion, nationality, membership of a particular social group, or political opinion.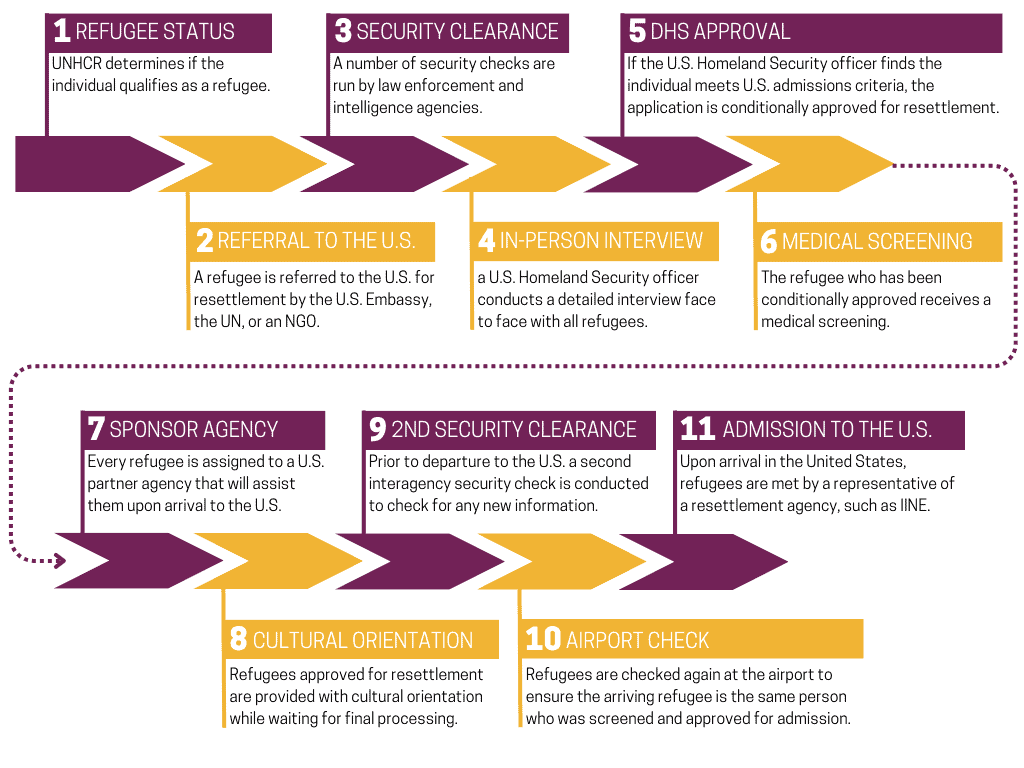 Those who obtain the legal status of "refugee," are given protections under international laws and conventions. They can live and work legally and receive lifesaving support from agencies like IINE. The determination is made by an official entity such as a government or the U.N. Refugee Agency before the journey is made to a new country. In the U.S., refugees can join the workforce and have pathways to become lawful permanent residents and eventually citizens. 
Informally, "refugee" is sometimes used as an umbrella term to describe anyone who leaves their country due to unsafe conditions, regardless of legal status. Learn about IINE's Refugee Resettlement program.
Asylum-Seekers
Asylum-seekers leave their home countries with the hope of obtaining the same protections given to refugees once they arrive at their country of destination. Upon reaching or crossing the border, they must apply for "Asylum," and prove to authorities that they have suffered persecution, or fear that they will suffer persecution, based upon race, religion, nationality, membership in a particular social group, or political opinion. Those whose claims are successful—and who are granted protections within their new countries—are called "Asylees." Asylum-seekers can apply to work in the U.S. while their cases are pending and like refugees, asylees have a path to a green card, and eventually, citizenship. 
Temporary Protected Status (TPS)
Temporary Protected Status allows designated foreign-born individuals to temporarily remain in the U.S. and apply for work authorization in the U.S. while it is deemed unsafe to return to their country of origin.  
When a war breaks out, or a natural disaster strikes a foreign country, people from that country who are currently in the U.S. may be granted TPS by the U.S. government. TPS is sometimes renewed over several years—and sometimes the renewal decision becomes politically contentious. The status does not inherently provide a pathway to citizenship, or the same rights and protections afforded to refugees and asylees, but TPS recipients can apply for asylum, or other humanitarian legal statuses.  
Parolees
Parolees, also known as "Humanitarian Parolees," are granted entrance to the U.S. temporarily for urgent humanitarian reasons—usually for one year at a time. Like TPS recipients, they do not inherently have a pathway to citizenship, but can apply for authorization to work while in the U.S., for asylum, or for other humanitarian legal statuses. 
Read the story of Zahra, who joined IINE's staff as a parolee to the U.S. following the 2021 evacuation of Afghanistan 
Cuban/Haitian/Nicaraguan/Venezuelan (CHNV) Parolees
CHNV Parolees, under a new legal status, can enter the U.S. for two years if they have sponsors in the U.S. who commit to providing housing and financial support for this period. This mirrors the Unite for Ukraine (U4U) program launched earlier for Ukrainians fleeing the Russian invasion of their country. 
Read our "Spotlight Report: Welcoming Haitians" to learn more about why so many Haitians are making the difficult decision to come to the U.S. and how IINE is responding to their arrival. 
Victims of Trafficking
Victims of Trafficking are people who are subjected to force, fraud, or coercion for the purpose of commercial sex, debt bondage, or involuntary labor. Human Trafficking is one way in which people are forced to move across borders, but trafficking victims can be U.S. citizens, Lawful Permanent Residents, or foreign nationals.  
IINE provides a Trafficking Victims Assistance Program to provide case management and immigration legal support to foreign-born victims of trafficking.
Unaccompanied Children (UC)
Unaccompanied Children are people younger than 18 years-old who enter the U.S. independently of a parent or legal guardian and for whom no parent or legal guardian in the U.S. is available to provide care and physical custody. They are usually fleeing unlivable conditions and threats to their safety in their home countries, and often seeking to reunite with family members in the U.S. Learn about IINE's Unaccompanied Children program.
Internally Displaced Persons and Climate Disaster Displaced Persons
(CDP)
These statuses currently fall outside of humanitarian protections. 
Internally Displaced Persons (IDP)
IDP have been forced to leave their homes because of violence, human rights violations, or natural disasters, but, either by choice or necessity, have not crossed an internationally recognized border. IDPs do not have special status internationally or in the U.S. with rights specific to their situation.  
Climate Displaced Persons (CDP)
CDP have been forced from their homes due to disasters caused by climate change. A growing population, individuals displaced by climate disasters alone do not currently qualify for humanitarian protections internationally or in the U.S.