In honor of National Volunteer Week, we recently caught up with a number of our cherished IINE volunteers to hear more about their passion and experiences. First up: Tom Barrington, the leader of a Resettle Together community sponsor group. Resettle Together is a collaborative effort between carefully selected groups of volunteers and IINE staff, working together under a formal agreement to prepare for and welcome refugees into their communities.
Tom shared how he first began working with refugees, his experience co-sponsoring a family of nine Afghan refugees, and his advice for anyone who might be interested in getting involved. Read on to discover what Tom had to say…
IINE: Tell us about how you first got involved with working with refugees.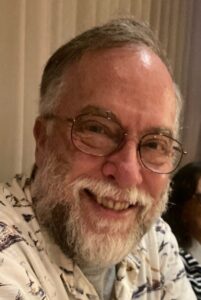 Tom: I have been doing volunteer resettlement work—which I now call accompanying refugees and asylees—since the Bosnian War, which was in the mid-90s. At that point, I was living in Syracuse. When I then moved to Massachusetts, I continued working with asylees through an organization called RIM (Refugee Immigration Ministry). I was supported and taught a lot by David Rinas, a Lutheran pastor in Chelmsford at the time, and his wife Doreen, who were very involved in this work. I am an Episcopal priest, so I was able to get my parish involved as well. We worked with various individuals and families over the years that came from all around the world.
In 2012, I left the parish in Chelmsford, and I ended up working at a homeless shelter for a few years and then interim ministry around the state.  For the past decade or so, I wasn't as involved in this work. Then, when I retired last summer, I knew I wanted to return to it. I was out to breakfast with David, who is now retired. He said, "Hey Tom, we have heard that there is a large family coming from Afghanistan, and we're trying to put together a team of people who can support them." So, I was back in. We put together a team of three couples – my wife Linda and I, David and Doreen, and our friends Steve and Cynde. We are all old friends, who have been involved in different churches.
We initially thought the family would be coming through a resettlement agency in Worcester, but then we discovered that because the family already had relatives in Lowell, they would be sponsored by the International Institute of New England. So, that led us to you!
IINE: What has your experience of partnering with IINE been like?
Tom: Well the first steps happened quick. By the time we connected with Jessica Cirone (IINE's director of community engagement) and explained who we were and our interest in helping, the family had already left Afghanistan and was in Qatar. Our group finished all of the official paperwork and background checks on a Friday, and the family arrived the following Monday!
We came to the partnership with IINE with an assumption that while resettlement agencies are involved and help, it's really the community group that does the heavy lifting. We were delighted to discover that wasn't the case with IINE. IINE's resettlement staff found an apartment for the family, secured public benefits, managed the government processes, and scheduled medical appointments. Meanwhile, our team focused on physically setting up the apartment, ensuring there were enough household items and food, and actually picking the family up from the airport and bringing them to their new home. It was really quite a relief to not have to focus on the institutional tasks, and to instead prioritize the interpersonal work. In the past, we have had to create the plane as we flew it. That wasn't the case here. It's really been so much easier – and a delight.
IINE: Can you tell us more about the family you are sponsoring and your team's relationship with them?
Tom: Essentially it's two families – a brother with a family of nine and a sister with a family of seven. Both families were trying to leave Afghanistan when Kabul fell in 2021. You have seen the pictures of the masses of people at the airport – it was chaotic. There was a bombing, and the soldiers told the sister, her husband, and their children to head towards the airplane. Meanwhile, the brother and his family were told to head back to the city. However, his 14-year-old son was holding his aunt's baby so he followed the sister—his aunt—onto the plane. So that's how he found himself in Lowell, living with his aunt and uncle and their children.
Thankfully, through one of the more compassionate immigration policies this country has, which reunites unaccompanied minors with their families, the rest of his family was granted refugee status. At that point, they went to Qatar, and then came here. So this was a reuniting of the son with the rest of the family, which was very moving.
The road ahead for the family isn't easy. Learning English, securing jobs, integrating into a new community – it takes time. Our group's responsibility throughout all of this is to accompany the family. We are not here to live their lives or to try to make sure they "do it right." We are here to accompany them, to help explain the unknown, to be with them. And sometimes that is frustrating, and sometimes it is wonderful. Communication isn't always perfect, in any direction. But getting to know them individually and as a family – it has been a huge privilege.
IINE: That's what we hear from our volunteers, time and time again – that the opportunity to connect, build relationships, and offer support is hugely rewarding. Do you think you will sponsor another family?
Tom: Absolutely. Every family comes here under unique circumstances and needs a different kind of support. There are so many ways to help and stay involved. I have gotten so much from this work over the years, so I'm committed to continuing.
IINE: Is there any advice you would share with readers who might be curious about volunteering, too?
Tom: Do it with others. Don't do it alone. Find a team. The wisdom and support your team members will provide is really important. We started with six people and have grown to ten, as well as another four or five people who support us in various ways. And relatedly, you can start small. Volunteer to do one specific thing – maybe that's driving an adult to an appointment or taking the children to a playground for an afternoon. Do not feel like you have to do it all from the start.
I would also reiterate the importance of accompanying the family, not directing them. One of the gifts that we can give these individuals is to support their decisions, even if they aren't the ones we would personally make. You need to be willing to sort of let go. Know the boundaries and your role. It really is very humbling.