In our Volunteer Spotlight series, we catch up with cherished IINE volunteers to hear more about their passion and experiences (read our first installment with Resettle Together volunteer Tom Barrington here). Our latest installment features Karen Montague, who has been volunteering with Afghan women and their families in Manchester, NH for the past couple of years.  
Karen shared how her involvement with these women has evolved over time from delivering them food, to empowering them to develop their English skills and culture awareness, form community with one another, and reach self-sufficiency. Read on to discover what Karen had to say… 
IINE: How did you first become involved with IINE?
Karen: I started volunteering with IINE in October 2021 when families started arriving from military bases in Afghanistan. My church was not large enough to sponsor a family, so a few of us were looking for other opportunities to get involved. IINE was the perfect fit, as you could sign up by task. I live in Wayland, Massachusetts so I began volunteering at IINE's office in Lowell, MA. However, we heard that the Manchester, New Hampshire office was in real need of volunteer support because Manchester didn't have an established Afghan community in the same way that Boston and Lowell did. At that point, I switched from sorting donations and delivering groceries to families in Lowell, to driving to Manchester once a week to bring food to the Afghan families staying in hotels.  
IINE: How has your involvement evolved since then?
Karen: Well, the fellow volunteers and I quickly learned that the food we were cooking and schlepping up to Manchester to deliver wasn't actually being enjoyed! The front desk staff in Manchester let us know that the Afghan families were throwing a lot of it away. So, we knew we needed a new plan. I'm a member of St. Peter's, an Episcopal church in Weston, MA, so I reached out to the Episcopal church in Manchester to ask if we could use their kitchen once a week. We wanted to bring the Afghan women there to get them out of their hotels, start to create community together, and give them the opportunity to cook for their families. The church didn't have the space, but they recommended Brookside Congregational Church, which had an industrial kitchen approved for use by the city. So that's how it
started – we started bringing three Afghan women to Brookside every Tuesday. We would go to Market Basket to buy the ingredients, bring them to the church to cook together, package it all up, and then deliver the food to all the Afghan families staying in hotels.  
Over time, these gatherings grew, as we discovered there were more Afghan families in the community already settled in their apartments. They heard about our cooking sessions and asked to join. At one point, we had 12 families cooking together for over 60 people!  
IINE: That's amazing! I understand that you pivoted the program again last summer.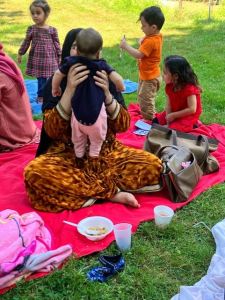 Karen: That's right. When we reached June 2022, we knew we had to figure out a plan for the summer since the school year was ending. That's when we started Camp Brookside. Every Tuesday from 11am-4pm, we would bring the women together along with their kids. Brookside has beautiful grounds, including a soccer field, community garden, and playground. We would spend the day outside; the women would socialize, we would host a potluck, and the children would play. Local high school honor students would also come to teach the children English and play soccer with them. It was perfect. 
Then fall came, and by then, all the families had found apartments and were fairly settled, so there wasn't a need to continue with the cooking. Instead, we wanted to focus on providing educational experiences for the women. They continue to come every Tuesday—early on they had called it a "break from their tears"—and we cover an enrichment topic, provide an hour of English instruction, and spend time socializing.  
IINE: Can you tell us more about what those enrichment topics have included?
Karen: Yesterday, for example, Officer Rachel from the New Hampshire Traffic Division came to talk to the group about child safety and how to properly install car seats. In weeks past, we had a dental hygienist come to discuss the importance of proper dental hygiene for the women and their children; a representative from Amoskeag Health comes once a month to discuss a health topic the women have expressed interest in; and someone from WIC also comes occasionally to discuss nutrition.  
I'm really happy to see how our work has transformed – from bringing these women together because they basically hated our food to now using these Tuesdays as an opportunity to educate the women and strengthen their community ties.  
IINE: We know that every refugee and immigrant that comes to the U.S. has a unique story and faces unique obstacles. What challenges are the Afghan families experiencing, from what you have seen?
Karen: Many Afghan families are very large, and it is expensive to have a big family in the U.S. If just the father is working, that's barely enough to cover rent, let alone anything else. So, a couple of the Afghan women we support have started a business called Sewing Seeds for Hope. It's a sewing business, "empowering Afghan women one stitch at a time." The women make pillows, aprons, cosmetic bags, and other items, and volunteers sell them during coffee hours at local mosques, churches, and temples. We are averaging over $600 in sales for those coffee hours! It's incredible.  
In Afghan culture women are often not encouraged to work outside of the home, especially in more rural areas. So, these women were not used to being able to support their families financially. They are so proud of their ability to contribute through their sewing expertise. 
IINE: What have you found most rewarding about your volunteer experience?
Karen: We have become so connected to these families, and it is amazing to witness their resilience firsthand. I first wanted to become involved in helping Afghans because of the horrific videos we all saw of the overrun airport when the Taliban took over Kabul. I still cry just thinking about it. These families have gone through so much. And now, they feel like my own family – in fact, I see them more often than I see some of my extended family members! All of the volunteers have become very close as well. It's incredibly gratifying to have formed such a tight-knit community.  
It has also been rewarding to see the Afghans progress. Unlike some other refugee populations, Afghans do not spend any time in refugee camps before coming here, so their opportunities to learn English and develop cultural awareness pre-arrival are very limited. When they arrive here, the Afghans are very vulnerable and really need help. Seeing them, over the past few years, become more comfortable speaking English, and watching the children become involved in school, sports, and communities – it's wonderful.  
IINE: What is something that you would want prospective volunteers to know?
Karen: With IINE's structure, you can get involved as little or as much as you want. You should not feel overwhelmed by the commitment. There are volunteers who end up being very involved, and then there are volunteers who come once a week when they can to help with transportation and childcare at our Tuesday gatherings. Everyone's contributions matter and make a difference, so find an opportunity that works for you.